On this site:

Aims of our research The importance of Mountravers
The Mountravers Plantation Community, 1734 to 1834
The enslaved people
The employed men

Archival research:
Enslaved people and three brief biographies
Managers and overseers
Fieldwork:
Developments
Other work on Nevis:
Bath Hotel
British Library Endangered Archives
Bush Hill Estate
Clarke's Estate
Clifton Estate
Court House
Eden Browne Estate
Montpelier Estate
Scarborough's Estate
Tower Hill Estate
Wreck of HMS Solebay
The 1725 Uprising: Frank's Story
Developments in Bristol
Mountravers Plantation (Pinney's Estate) - Nevis, West Indies
Christine Eickelmann and David Small
---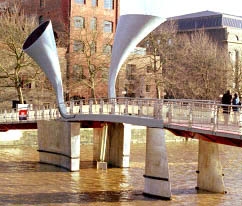 Pero's Bridge in Bristol's Harbourside,
opened in 1999
Developments in Bristol
Until 1996 there had been a marked reluctance among the institutions of the city to acknowledge its important role in transatlantic slavery. Since the formation of the Bristol Slave Trade Action Group in 1996 Bristol has seen an astonishing transformation in that attitude. We have been involved in supporting this change,
contributing research and assisting in the writing of information panels for the Georgian House Museum (1998, revised 2018)
assisting with the development of a Slave Trade Trail
producing the research used for the naming of Pero's Bridge in the Harbourside (See Publications, reports and broadcast media PERO The Life of a Slave in Eighteenth-Century Bristol)
assisting Bristol Museum in staging their major exhibition on slavery, A Respectable Trade?, in 1999 (For details of the exhibition, see Bristol and Transatlantic Slavery by Madge Dresser and Sue Giles, Bristol Museum and Art Gallery, 2000.)
contributing the research into the life of the Nevis-born Frances (Fanny) Coker to the M Shed Museum. She features in their Transatlantic Slave Trade theme.
The revised display in the Georgian House Museum includes a panel with over 900
enslaved people known to have lived on the plantation later known as Mountravers